Where to get icrowave Oven spare parts services in Nairobi, Kenya | Call 0725570499
---
Microwave Oven Spare Parts Services in Nairobi by Homefixit
Homefixit, your trusted appliance service provider in Nairobi, offers comprehensive microwave oven spare parts services. We understand the importance of a functioning microwave oven in your daily life, and our team is dedicated to ensuring that your appliance operates smoothly. Here are the spare parts and their purposes that we offer:
1. Magnetron:
Purpose: The magnetron is the heart of the microwave oven, responsible for generating microwave radiation that heats the food. Replacing a faulty magnetron is crucial for efficient cooking.
2. Turntable Motor:
Purpose: The turntable motor rotates the glass turntable inside the microwave, ensuring even cooking by distributing the microwave energy evenly. If it's not working, your food may not cook uniformly.
3. High Voltage Capacitor:
Purpose: This component stores and releases electrical energy to power the magnetron. A malfunctioning capacitor can lead to a lack of heating in the microwave.
4. Diode:
Purpose: The diode converts the high-voltage AC power from the capacitor into DC power, which is required to operate the magnetron. If the diode fails, the microwave may not heat food properly.
5. Door Switches and Interlocks:
Purpose: These safety components ensure that the microwave door is securely closed during operation. Malfunctioning door switches or interlocks can prevent the microwave from working, as they are designed to prevent radiation leakage.
6. Control Panel and Keypad:
Purpose: The control panel and keypad allow you to set cooking times, temperatures, and power levels. If buttons are unresponsive or the display is faulty, it can hinder your ability to use the microwave effectively.
7. Light Bulb and Socket:
Purpose: The microwave's interior light bulb illuminates the cavity, allowing you to monitor the cooking process. A burnt-out bulb or faulty socket can make it difficult to see the food inside.
8. Fan Motor:
Purpose: The fan motor is responsible for cooling the microwave's components during and after cooking. A malfunctioning fan can lead to overheating and damage to other parts.
9. Waveguide Cover:
Purpose: The waveguide cover protects the microwave's magnetron from food splatters and moisture. If it becomes damaged or dirty, it can affect the microwave's performance.
10. Fuse: - Purpose: Microwaves have one or more fuses that protect against electrical overloads. If a fuse blows, it needs to be replaced to restore power to the microwave.
Homefixit in Nairobi ensures that we stock high-quality spare parts for various microwave oven brands and models. Our experienced technicians can efficiently diagnose issues and replace faulty components to restore your microwave's functionality. We prioritize customer satisfaction, provide transparent pricing, and offer reliable spare parts services to keep your microwave oven running smoothly in Nairobi and its surrounding areas. Contact Homefixit today for all your microwave oven repair and spare parts needs.
WASHING MACHINE REPAIR, OVEN REPAIR, FRIDGE REPAIR IN NAIROBI, COOKER REPAIR, DISHWASHER REPAIR, TUMBLE DRYER REPAIR, WATER DISPENSER REPAIR, TELEVISION REPAIR...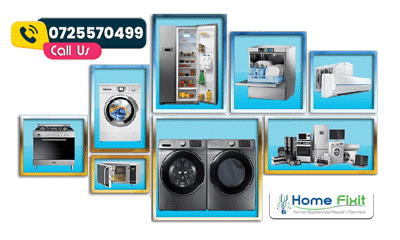 Get the best appliance repair services in Nairobi & Kenya. Whether it's a malfunctioning washing machine, refrigerator, cooker, oven, television, water dispenser, dishwasher, or tumble dryer, our team of skilled technicians is here to provide prompt and reliable repairs. With years of experience in the field, we specialize in fixing a wide range of appliances, ensuring that your daily routines are not disrupted and your appliances operate at their best. Trust us to deliver efficient and professional appliance repair services tailored to your needs in Nairobi.